Lust
Feb 24, 2014 12:08:08 GMT -5
Post by Lust on Feb 24, 2014 12:08:08 GMT -5
I was born Edwin Justin Couper, but you can call me Lust.
I am a man who is nineteen years of age.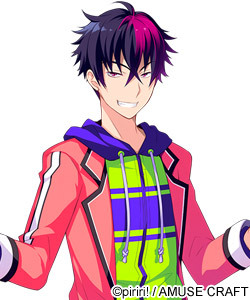 6'1" - black hair - red eyes
I am from
Sinnoh
, but I am delighted to be part of the
Kalos
team.
What am I like?
Well darling I am glad you asked. I am a fabulous flamboyant individual who likes to show ladies a good time. Some have called me a flirt, but I didn't get the nickname lust for nothing. I am kind, and a gentlemen, but don't get me wrong I am not a push over. In fact when push come to shove I am almost as bad as my younger brother Greed. Oh, but lets not talk about him, lets talk about me. I like candle lit dinners and snuggling. I am all about the love, but gentlemen please don't flatter yourself, I am all about the ladies. I am highly intelligent, under all this hair gel there is a brain yes, funny no? Well there is. I have often been referred
to a manipulative
and ruthless and I guess you could say I am both of those things in away. I am very loyal to my friends and family and if anything should come to harm them, then I become something no one expects from me. You hurt the ones I love and you will hurt. I became protective, and merciless, ruthless doesn't even start to cover it either. Yet even still I have my charm. I always have my charm.
My past isn't that important
but since you asked;


I was born into a poor family in Sinnoh, the youngest brother of twin boys. Right from the start my brother Ryan was calling the shots it seemed. Well I grow up and at one point my young brother Doug was born, but the memories of us all growing up together are fuzzy at best. By the time I was eight I was working, mostly with my dad, but also other odd jobs. It would seem we didn't have enough money for all three of us kids, my mom and dad with his drinking problem. The days where long and the nights even longer. I loved my mom and little bro, but one day I just left with Ryan. We ran around on the streets for a time, doing what we needed to do for years. Then one day Greed just showed up and I brought him to Ryan and we took him in. He started a gang, the seven sinners as Greed and Envy liked to call it, I got the name lust and oh well it doesn't bother me. Life was good until Envy, who is my brother Ryan started to slack off, but one day a fight broke out and Greed took over the Gang and decided to move us all to Cherilli. So I did what I could got some money and some how got accepted and came here. This is surely going to be interesting time at this school. I never really much liked school to be honest. Well that is how the code rolls.